Fin Combs
As a Texan you know the degree of the bad weather storms we often endure. People often stay inside the comfort of their own home waiting for a storm to pass and cross their fingers hoping the hail doesn't damage their vehicle.
One thing most consumers do not think to worry about is their outdoor air conditioning condensor.
After most big storms we receive dozens of phone calls from consumers who have hail damage on their air conditoning condensor and do not know what to do. The degree of the hail damange to your condensor determines how bad it will have on the units performance. If there is significant damage to the fins, it can result in your system working overtime to put out even a minimal amount of air. If you leave damaged fins as they are and do not comb them out then your system will overwork itself and shorten the lifespan of the air conditioning system. Damaged fins on a condensing unit can best be compared to a person with asthma or a fish out of water.
What do I do if I have damaged fins?
Just purchase a fin comb from us and watch our how-to video for instructions on doing so. A person with no HVAC experience can easily do this process but it can be very time consuming.
To avoid having to pay a technician to straighten your fins or lose what little extra precious time you may have, the final option is to get a quote to replace your condensor with one that is hail proof. We only believe in high quality so each and every condensor we sell is hailproof. This means you will never have to worry about damage to your system or have to pay to fix any hail damage because you will never get any!
How do I straighten damaged fins myself?
The following are step by step instructions to comb out your fins: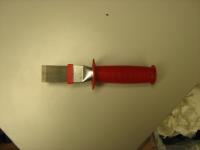 Step 1: Always pull the outside disconnect cord to kill all power to the condensor unit.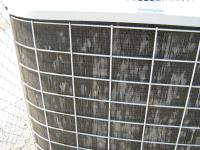 (Condensor Unit with Hail Damage)
Step 2: With the tip of your fin comb aimed upwards at an angle, apply pressure and apply pressure in a downward direction. The fin comb is adjustable so it will work on different sizes of hail damage.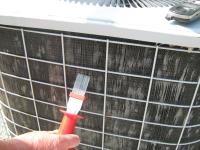 (Use the fin comb to straighten out any damaged areas.)
Step 3: Repeat step 2 repeatedly until there is no longer visible damage to your condensor fins. This process is similar to working tangles out of a childs hair and will take an average of several hours to do so.
Before spending all of your time and effort on combing your fins, call and ask to speak with someone in our office who can tell you if this is all you need. Once you have determined it is hail damage you will need to purchase a fin comb and then you can get started. We sell them in the office for just $15.
Watch the following fin comb instrutional video for additional info.